The hotel's history
You'll have a chance to stay in a building steeped in history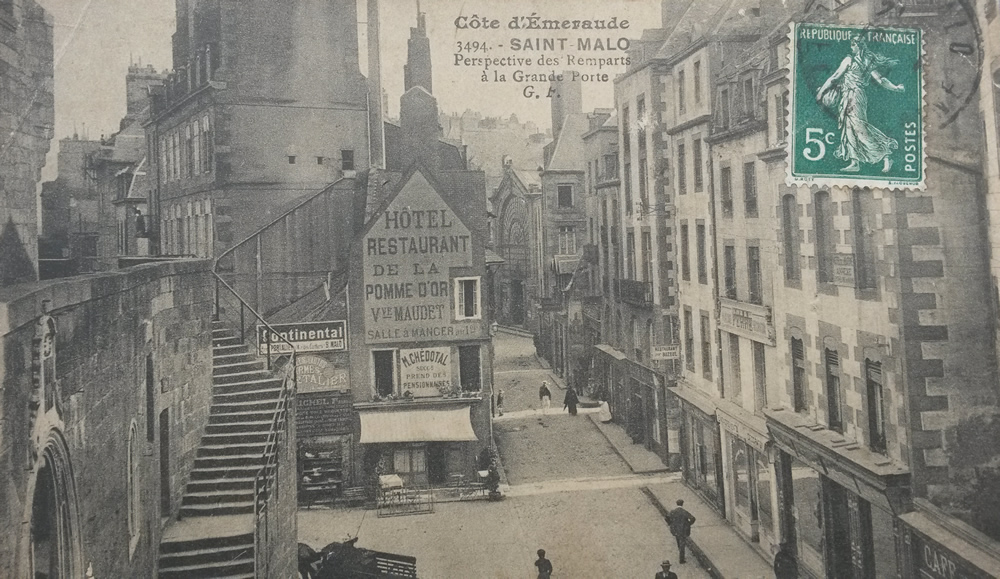 By virtue of its location, Place du Poids du Roy, between Rue de Chartres and the Rue des Cordiers, has played witness to some of the most brilliant corsairs of their day including René Duguay Trouin and Robert Surcouf, as well as the most frightening, such as Borgnefesse..
Back in the day, the Grand Porte, the main gate that faces the Hotel, was the main entrance into the town and corsairs had to pass through it. Upon disembarking from their ships, after several months at sea, a stopover in Place du Poids du Roy was compulsory in order to settle a 'droit de poids', which was essentially a tax they owed to royalty.
They then made for Rue de Chartres and its taverns where they would be assured of finding adequate comfort… They went on to squander their pay in the countless inns along the famous "Rue de la Soif", now known as Rue Jacques Cartier (another native of Saint-Malo, the man who discovered Canada).
As such, the building in which you find yourself today has always been at the centre of local life in Saint-Malo and has been a hostelry since the 17th century. It was destroyed and rebuilt several times over following the events that marked the town's history.
You may notice a few differences in relation to the other Ibis hotels you've stayed at and these are due to the need to respect the architecture of the period, as well as the strict obligations called upon by the Architects des Bâtiments de France, the guardians of France's architectural heritage.
Despite all these constraints, the Ibis Hotel Styles Historical Centre welcomes you in a warm, colourful venue, with modern decoration favouring your comfort. Here, as was the case in the past, there's no need for a car. You can take full advantage of the town, its restaurants, bars, shops and beaches… on foot, or even by bike.
​